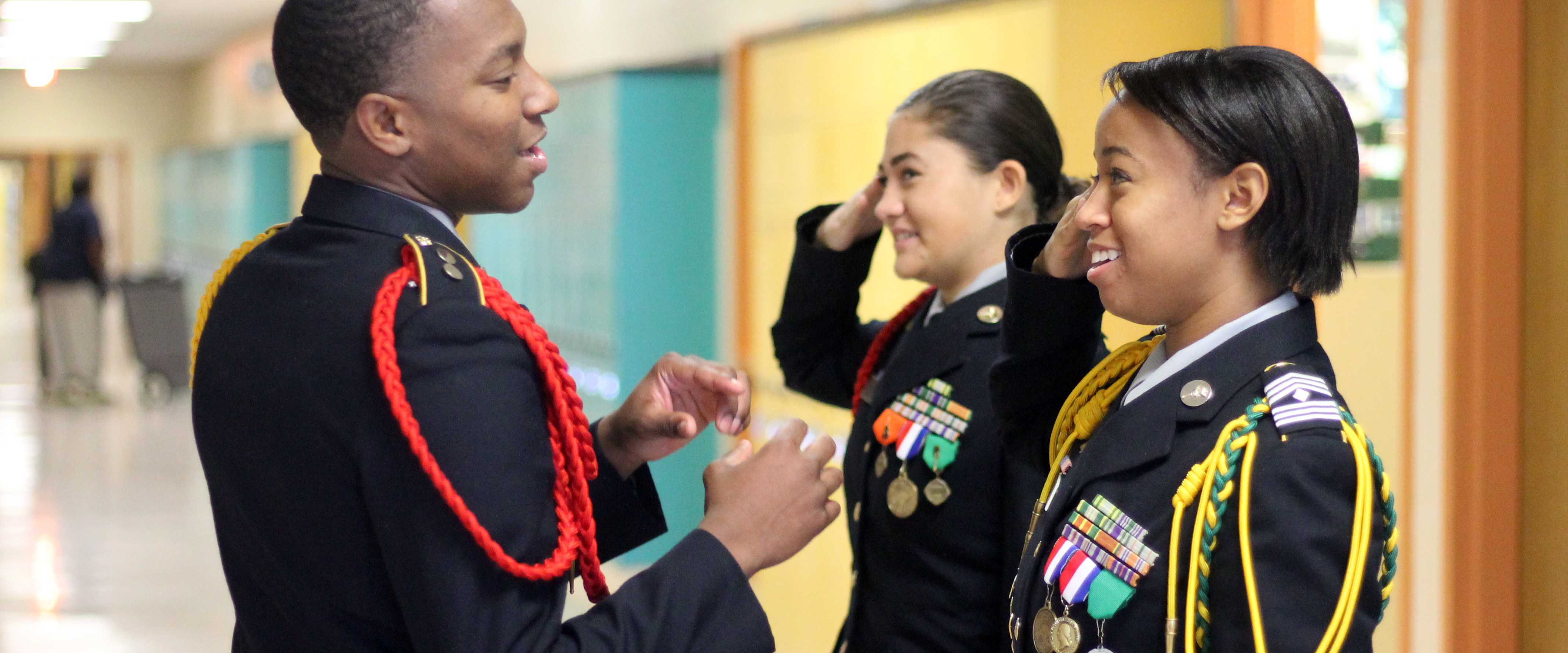 Being a leader means defining and exhibiting moral and ethical courage and setting an example for everyone within a company. Some are born natural leaders, some follow in the footsteps of those before them, and some grow into leaders with time. A few main qualities of an exceptional leader are trust and dedication.

With 29 new cadets joining the drill team just this year alone, there is a huge need for leaders within the program. Senior Tony Williams is one of the five people to step forward this year to help lead the drill team alongside Sergeant First Class Johnson. Williams is this year's Drill Team Commander, with junior Chris Grimes as Co-Commander.

Williams, one of the most experienced members of the drill team, knows all about the team.

"Drill team is basically where you conduct movements and you march, but it's a more difficult way of marching because it's not what you do in [JROTC]," said Williams, who is in his fourth year of JROTC. "It's like you're really focused on what you're doing – you're not worried about who's walking in front of you, who's walking besides you, you're more in tune to what you've been told, how you're supposed to do it – it's like by the book. It's really hands-down, kind of hard."

Williams and Grimes both play very important roles on the team.

"I basically make sure everything is going smooth," Williams said. "[I make sure] the team has what they need, make sure everybody is good to go and I'm there for everyone on the team."

"I have to command. I'm one of the people that [yells out commands]," Grimes said.

Grimes was inspired to join the drill team because he wanted to follow in his father's footsteps.

"My dad was first sergeant, so he was in charge," Grimes said. "So I wanted to be in charge."

Williams and Grimes are greatly looking forward to many things, especially the competitions the drill team participates in.

"Every year [there's] something new and you see new people and new things. I'm really looking forward to what's there," Williams said.

"[My favorite part is] the competitions, because it just shows you that how hard you work demonstrates how well you perform," Grimes said.

There are new members joining the drill team that Williams, Grimes, and other cadets will help lead and command.

Shani Brooks, a new member of the Color Guard, is really enjoying her experiences so far.

"I hold the state flag," Brooks said.

Sophomore Orisha Gist is also new to the team. The drill team has helped her come out of her shell and become a little more confident.

"I would say since I'm a quiet person … I don't really shout or raise my voice that much," Gist said. "That's a challenge."

The older drill team commanders are certainly rising to the challenge of teaching the new members all that there is to know about being on the drill team. Brooks and Gist have already learned a lot in their two months of being a member.

"I've learned to be disciplined. They teach us how to move smoothly," said Brooks. "You have to be sharp and on time with the movements."

"[I've learned] to be open to other people, because everybody's different, and it's always good to be accepting of other things," Gist said.

Though the 2017-18 drill team members have only been working with each other for a short time, they already have developed a strong, warm bond that will only be strengthened throughout the year.

"[One of] my favorite part[s] about drill team is basically spending time with everybody," Williams said.

"We're one big happy family," Brooks said.

The Raiders team competes on Sat., Nov. 18th at 7:00 AM at Pocahontas State Park. Several drill team members will be competing.