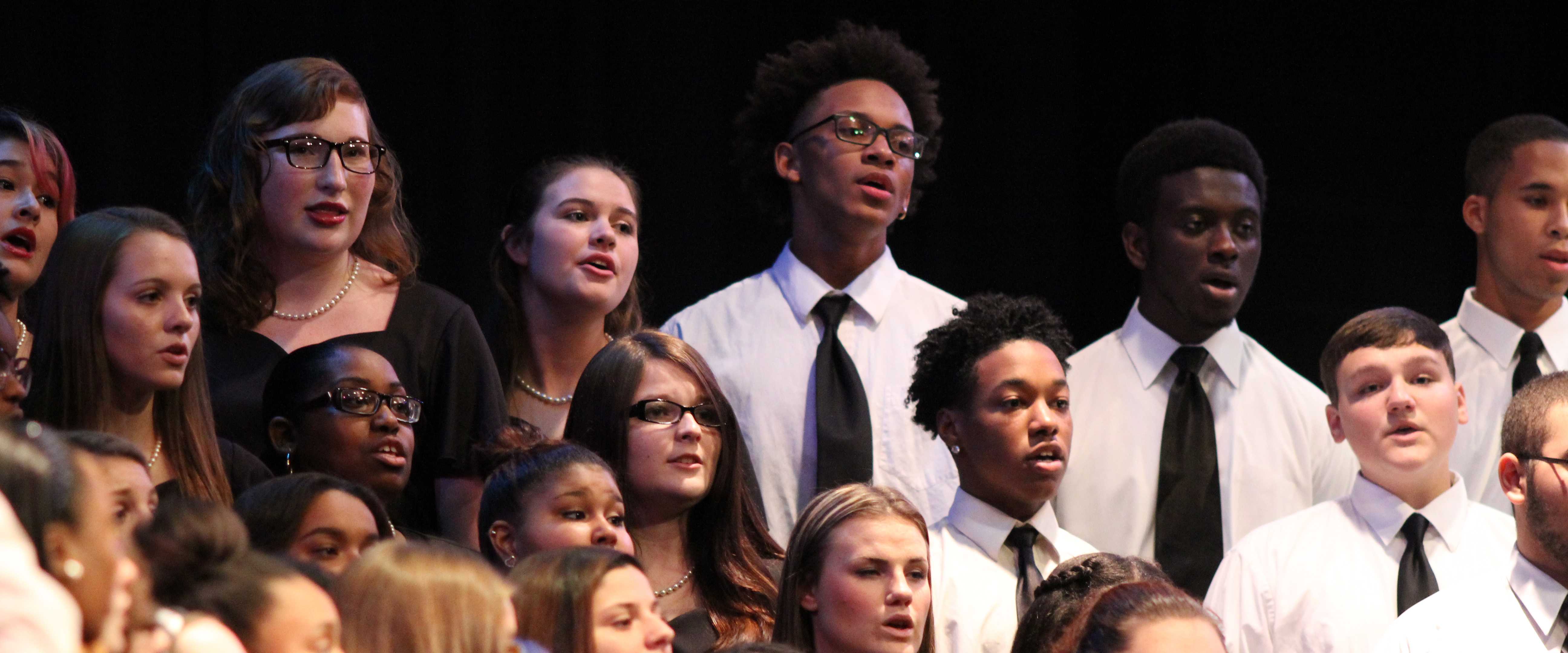 Hearts thump in their chests and palms sweat from anxious nerves as choir students walk into the audition that could help shape their singing careers.

"I felt about the same amount of nerves [during the audition]," France said. "It's still a bit nerve-racking because it's an audition and you want everyone to like you."

Students like senior Sam Preece and sophomore Madison France have attended this audition before and are a little more prepared for what is to come. Preece has attended the auditions since her junior year. France first went as a freshman.

"I feel like I did pretty good about my audition this year," Preece said. "It definitely wasn't perfect but I think going the year prior really helped me keep from getting super nervous about it."

All District Choir is an event where students in the same district compete in Virginia for a spot in the district three choir. District three includes Petersburg, Dinwiddie, Chesterfield, Hopewell, Prince George, Powhatan, and Colonial Heights. Students from these counties compete against each other in auditions that score them.

"Students are scored on many different categories like vocal quality, tone, projection, musicality, intonation, and rhythmic accuracy," choir director Storm Burks said. "Musicality is very important because it's how a person expresses his or her voice."

Burks prepares his students for auditions in late October. While choir students are auditioning, the judges sit behind with a sheet rating the students' vocal talents.

At the auditions for All District Choir, students sang the song "She Walks In Beauty" by Arthur Finer. This song has multiple high notes and strung out places that can make even the strongest singers out of breath.

"The song was okay, it wasn't my favorite but I understand why they chose it," France said.

Junior David Knipp attended his first audition this year and explained that the song chosen was very difficult.

"It was very hard. There were a lot of highs and lows in the song," Knipp said.

Every student has a different vocal part, which means this song, with both high and low notes, was difficult for choir students like Knipp who is a bass.
Other students like France and Preece have higher vocal parts like soprano one and two. Soprano ones have higher voices than soprano twos.

After auditions, students wait to find out if they have made it into the All District Choir. The students that make it into the choir get to compete against other districts and then against other states. Achieving this is a great opportunity for students to benefit from.

"All District is an opportunity for students who maybe don't get to sing in solos that often, an opportunity to get their voice out their and see how they level out with other students from other counties," Burks said.

Other counties also audition with Prince George students for a spot in the choir. Which makes getting a spot in the choir that much more of a challenge.
"It is a good opportunity for students to be there and be compared to students in other districts," Burks said.

The judges try to make scoring unbiased. Every judge has a different opinion on what they think sounds good. It is very subjective on what voices they do and don't like.

"It's a great learning experience," Burks said.