On Saturday October 21st, Prince George County held its 5th Annual Czech and Slovak Folklife Festival at the Heritage Center from 11:00 in the late morning to 4:00 in the afternoon. People from around the Prince George area, especially people who are Czech or Slovak attended the Festival.
"This is the area in Virginia where a large number of Czech and Slovak families came from the Midwest to fill the void of the work force for farming after the American Civil War," chair person, Dennis Sebera said.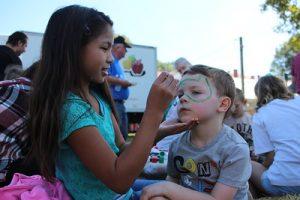 People from all over came to enjoy the day with all the events happening at the Festival. At the event there was a broad range of activities and entertainment for the people to enjoy. This included face painting, live bands, singers, displays of kitchen and farm hand tools, farm equipment, games, food, and animals.
"My favorite part is the food. It is very different," Czech singer, Bing Mendoza said.
While some people truly enjoyed the different variety of food others really enjoyed the live entertainment and educational exhibits.
"I liked the folk dancing and singing, but the maps in the exhibit were really interesting. I didn't realize that there was that many Czech and Slovaks in this area," Robin Rushing, who attended the Festival for the first time, said.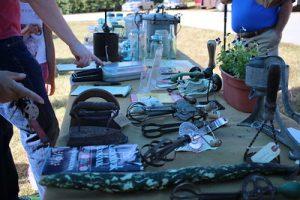 The maps were not the only displays at the event however. The people were also able to see vintage items at one of the tents around the Festival. Barbara Minor Bright, whose parents are both Czech, has always had an interest in collecting vintage items such as kitchen and farm hand tools that originate around the 1920s and 1930s. Her collection was on display for all to see at the Festival.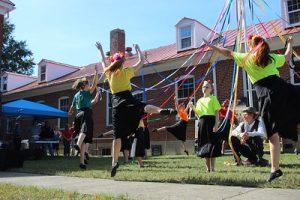 Along with the food and educational displays, there was also a Maypole Dance. It is a traditional folk dance in which the dancers form a circle and hold ribbons that are tied to a pole in the center of the circle. The dance was performed by That Dance Place, a dance studio in Colonial Heights.
If you are looking to attend an event that celebrates history here in Virginia this autumn, the 3rd annual Hops In The Park event is coming up. It will take place in Chester at the Henricus Historical Park on Saturday November 11th at 12:00 to 6:00 pm. Admission is free and the event offers the chance to learn more about the history of Virginia.  
"Keeping traditions alive, diversity, and ethnicity are important and we need to celebrate it," Mary Mendoza said. 
Attend the Czech and Slovak Folklife Festival next year for a chance to learn more about their history and culture.