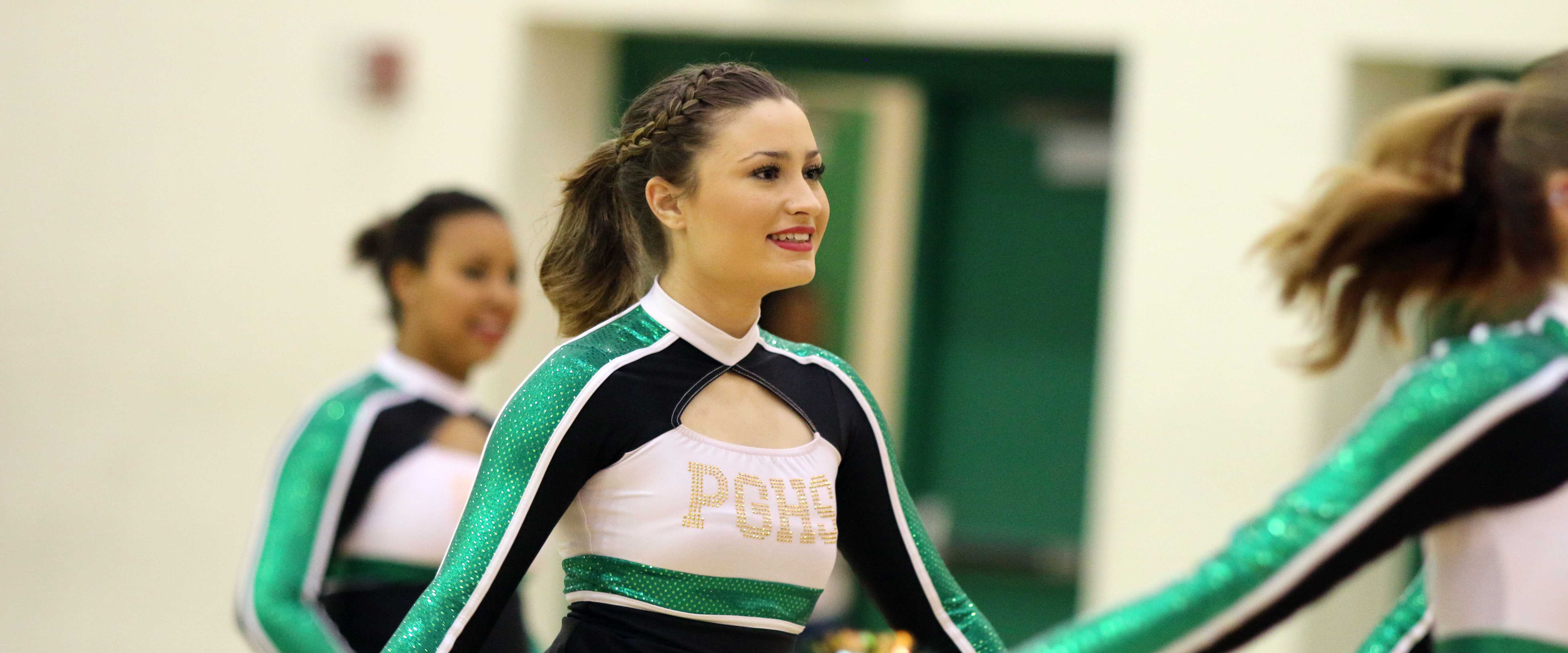 As the family and friends shuffle into their seats, the dance team nervously awaits to hit the stage. With their costumes neatly tailored and makeup perfectly applied, the music begins and the show starts.

This year's showcase for the Royalettes features their usual hip-hop, jazz, and kick line but also includes modern, tap, and lyrical. The showcase every spring lets the team show off their hard work in front of their family, friends, and classmates.

"I'm most excited to see how the showcase turns out knowing how much hard work we put into make it the best it can be," junior India Richardson said.

Richardson has been dancing on the dance team for three years but has danced for 15 years. "Dancing is important to me because I get to use a creative art form to express myself and have fun with my friends," Richardson said.

While many members of the team dance have been dancing since they were toddlers, junior Kayla Bailey has only been dancing for five years with four of those years being on the dance team.

"I haven't been dancing for very long, but once I started, I immediately fell in love with the ability to express myself," Bailey said.

Expression on the floor, court, and/or field is a positive way for student athletes to relieve stress. Dancing, like many other sports, relieves stress and expresses emotion and passion for the activity.

Whether the dancing is for a game, pep rally, or competition, the girls always find a way to pump up the crowd and themselves.

Coach Ashley Foote said, "The crowd gets involved and make the girls get even more into their routines, knowing the crowd is loving what they are doing."

Dancing differs from most sports because the team does not compete, "Other than competitions, there is no win or lose, everyone goes out on the floor, smiles and performs their best routine that they can while having fun with their friends showing the crowd how hard they've worked to be where they are [now]," Foote said.
It takes dedication to be a part of the Royalettes because it is considered an all year round team with tryouts starting in June.

Dance camps throughout the summer prepare them for dancing at the pregame and halftime shows at Football and Basketball games. Performances during games run September through February with practices in between performances. They have been preparing for the showcase since the end of February.

The showcase is unique from their usual performances because the girls dance two to three minutes long for sport games, while the showcase shows about two hours of routines.

The difference in time and the amount of dancing takes practice to build endurance and remember all of the dances for the one show.

23 girls are performing in the showcase with some girls remembering four to five dance to girls dancing up to ten to twelve dances.

There are sixteen dances altogether with six solos, one duo, one group of four, four dances with varying numbers and four full team numbers. The music varies from slower, meaningful songs to upbeat, lively hits to go with the style of dance.

"It takes more effort, sweat, and dedication than people think to be a performer," Foote said. This year's showcase is May 20th at 6:00 p.m. in the Auditorium. Purchase your five dollar ticket from a member of the dance team.