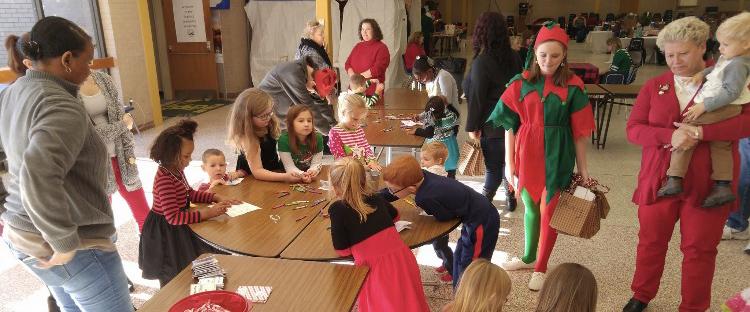 As families walked into the commons at Prince George High School, they were welcomed to a country Christmas. The Women's Club hosted their annual Santa Breakfast on Saturday, December 10th.
The event started off with participants enjoying a breakfast and being able to shop at the Snowflake Shop.
After breakfast, the Snow Queen and Santa were welcomed to the building when the participants started to sing, "Here Comes Santa Claus."
"My favorite part about the kids was seeing their reaction to Santa Claus when they visited him," junior Alyssa Martin said.
Elves then escorted guests and take kids around to the different festive activities. The activities included creating "Snowman Soup," making stocking ornaments, and playing holiday games. The kids also walked down Santa Lane to be greeted by the Snow Queen and Santa.
"My job was to help the kids and make sure they were doing all the activities right. I have been an elf for the past two years and every year you get different kids so, it is a new experience.I would love to do it again next year, I get so much joy out of participating and helping the community," Martin said.
While the kids were participating in the activities, the parent were able to continue shopping in the Snowflake shop. Parents also had the opportunity to participate in the raffle and get their presents wrapped by elfs.
The event concluded with the announcement of the winners of the raffle. This year they raffled off the centerpieces of each table and two gift baskets.