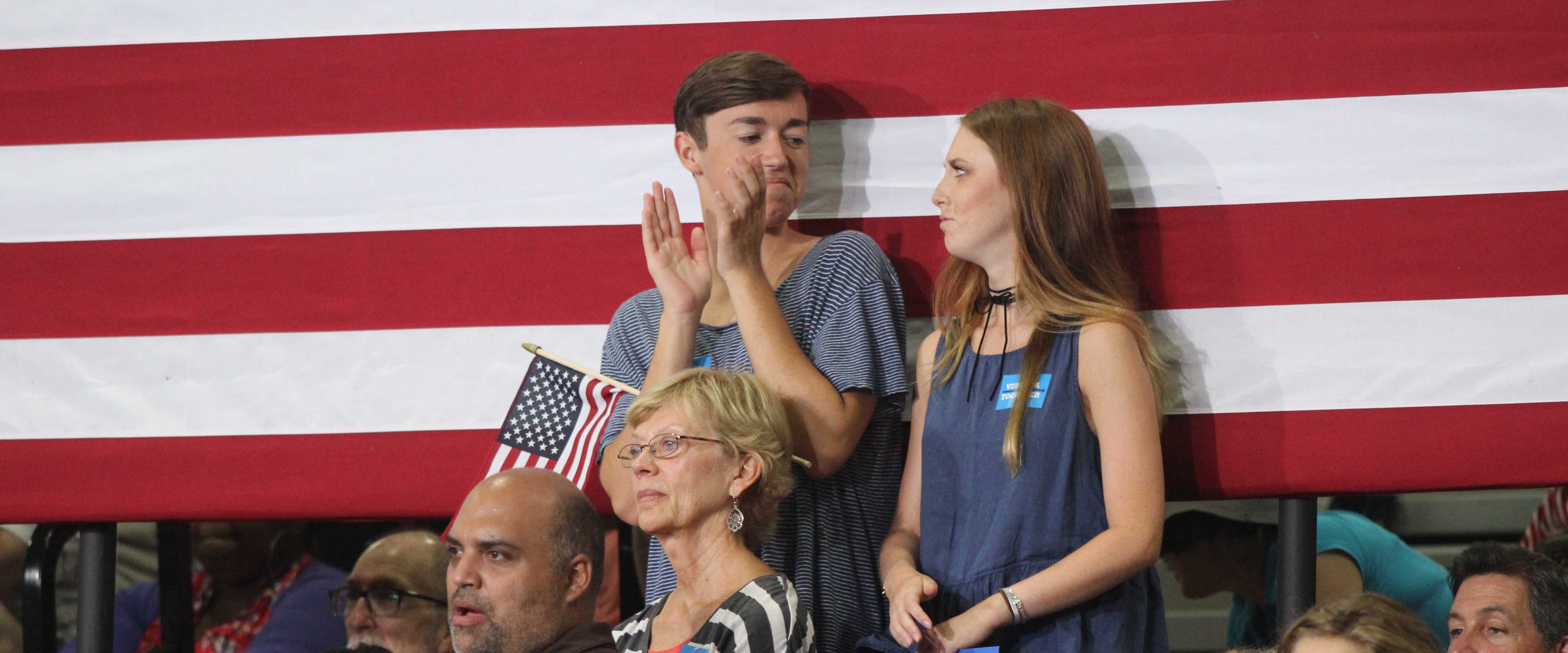 With the presidential election moving full force, students are voicing their opinions. Even though most high school students cannot vote, they are still making sure their voices are being heard.

A few students in Prince George have been showing their support outside of school by going to rallies and campaigning in support of their selected candidate.

"I got involved with campaigning for Hillary when I was at the Scott Park Back to School Night with a friend and someone asked me to sign up to campaign for volunteer credits – I was like sure," senior Christiaan Williams said. "It was something new I had never tried before and I wanted a new experience."

Williams gets involved with campaigning by making phone calls and canvassing neighborhoods.

"I loving getting to meet new people by going door to door who have the same interest as me," Williams said. "But at the same time it can be scary going door to door because people have dogs and some look mean. It is different, you never know how people are going to react it is not nerve wracking, but more of an adrenaline rush."

Other than campaigning, students show support by attending rallies.

"I went to the Trump rally at the Richmond Coliseum on June 10th," junior Meredith Topian said. "I saw it online and my friends and I wanted to go to support Trump. My favorite part was when he walked out and everyone was screaming."

At rallies supporters have the chance to hear what their candidates have to say about issues they think are important.

"He covered topics including building the wall and bringing back jobs," Topian said.

Also at rallies people get to meet others who have the same political ideals and goals in getting their candidate elected.

"The atmosphere at the rally was full of Trump supporters but outside there were a few protesters," Topian said.
With students getting involved teachers have noticed students talking about the campaign in the classroom.

"We talk about [the election] almost everyday" government teacher Karen Webb said. "Sometimes students share their opinion, but I try not to focus too much on each individual candidate. It is more about the candidate's qualities and the election in general."

With a large amount of talk about the election in class, Webb supports students who campaign outside of class.
"I think if a student feels really strongly then they should support that candidate," Webb said.

Even though these students can't show their support in the polls, it is import to make sure they are being heard in this election.

"You get to get out and meet new people, try new things, and get involved in the community," Williams said.

"It's important to show support because even though I can't vote I can show support at any age," Topian said.

With the election campaign season coming to an end in November, students are trying to get people now more than ever to vote.

"I think it's important for people to vote because everyone should get to have a say in who they want to be president," Topian said.

"I think it's important to vote because everybody has a voice and opinion. Some people think who cares they are one person, their vote doesn't count but every vote counts," Williams said.