The bus ride for Prince George students to the annual VSCA convention, was full of laughs, chants, nerves,  and tips for the weekend ahead.
Prince George High School's Student Government Association attended the Virginia State Council Association annual conference on April 8th through the 10th.
"I was really nervous," sophomore, Kate Bridgeman, said. "I did not know what to expect."
This year, the convention was held at the Kingsmill Resort in Williamsburg Virginia.
Students who attended the conference were seniors Kevin Foster, Savannah Martin and Abbi Pannil, juniors Aiden England and Esther Hong, and sophomores Anthony Hunter, Madison Foster, Kate Bridgeman, and Courtney West.
Teachers, Marcia Edmundson and Elizabeth, also went with the students.
During the weekend, students were able to attend leadership workshops, interact with schools from all across Virginia, and collaborate ideas to bring back to improve PGHS' SGA.
"My favorite part was the swap shops, I was able to learn about cool things to do in SGA and things to do at pep rallies," Bridgeman said.
There were also guest speakers throughout the weekend including Sunjay Nath, Dr. Steve Staples and Cynthia Mayo, who talked about leadership and qualities of a good leader.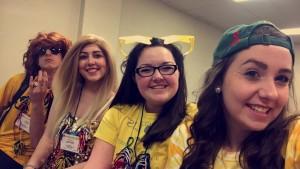 VSCA leaders implemented new events for the weekend like a Friday night pep rally and a spirit stick competition for the eight regions. With spirit stick competition, regions were to practice karaoke lyrics, make up school chants, and participate in games during meetings.
"I loved everyone singing around the piano while I played Don't Stop Believing," said Edmundson.
Along with fun and games, there was an awards banquet Saturday night that students dressed up formally to attend.  Edmundson was up for the advisor of the year award.
"[I felt] nervous, but over the course of the weekend, when we were really busy, I didn't even think about it," Edmundson said.
Through anticipation all throughout the students at dinner, the winner was announced.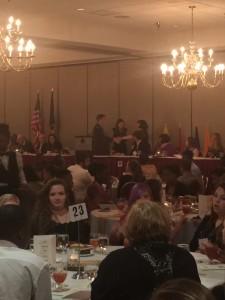 "When they started reading the recommendations and Kevin and I were recognizing some of the statements, it was disbelief." Edmundson said.
Along with awards, Prince George High School won the Achievement award for the fourth year in a row.
PGHS enjoyed another weekend sharing ideas and showing Royal pride to other schools around Virginia.