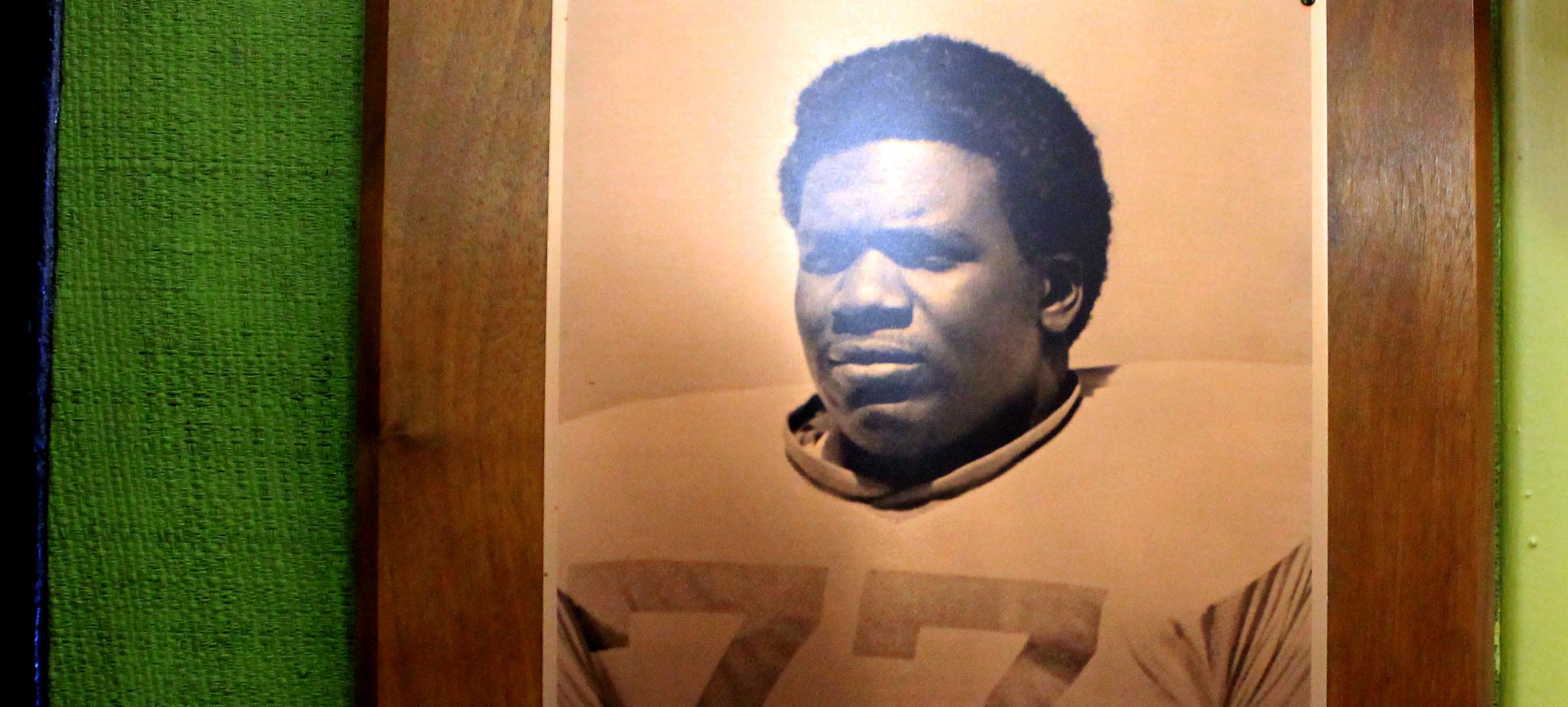 Former NFL player Larry Brooks is known by the older generations as the Rams defensive tackle that dominated the 70s, but there is much more behind this player than is revealed. Brooks, who graduated from our high school in 1968, went on to play football at Virginia State University. It was there that he established a name for himself and went on to become an All-Conference Defensive Tackle. He was named to the Associated Press Little All-American team in 1971 and was named Virginia Small College Lineman of the Year. The 6'3″ and 305 pound defensive lineman managed to catch the eye of the Los Angeles Rams, a team that was on the brink of a playoff run and looking for some final pieces.

"The transition was tough back in my time, and no doubt is still tough today," Brooks said. "Coming from Virginia State and then going to the LA Rams across country; definitely a big change. Not to mention that I was a 14th round pick, which is the correlation of being a free agent nowadays, with there being only seven rounds and all. It was just an unbelievable experience, making that transition."

Brooks, deemed #90, managed to snag a job in the starting lineup a little more than halfway through his rookie season. The Rams Defensive Line at this time was dominant, with players like Hall Of Famer Jack Youngblood at defensive end, Hall Of Famer Merlin Olsen at defensive tackle, and Fred Dryer at the other defensive end spot. His second season, Brooks stepped in and led the Defensive line in tackles with 76, along with nine sacks as an interior defender. He was part of a Rams defense that didn't allow 300 yards once the entire season. In 1974 Brooks tackled opposing quarterbacks 11 times as the Rams were first in the NFC with 44 sacks and again led the NFL in allowing the fewest rushing yards with 1302 while allowing the points, 181. That season Brooks was All-NFC as selected by Pro Football Weekly, and Second-team All-Pro by NEA.
"We were pretty good," Brooks said. "We were the best defense in the league for three years and the best in the league when we made our Super Bowl run. And we played against some dominant teams and offenses. Teams like the Steelers, Cowboys, Vikings, and Chargers all come to mind."
In 1975 Brooks suffered a crippling knee injury around midseason after garnering five sacks. In our current time, it is much easier to recuperate from a serious injury and be able to return to your previous state of skill, especially with all of the new technology and medical progression. But in the 70's we weren't nearly as knowledgeable, and it took a lot more to become healthy again.
"I had three knee surgeries during my time in the NFL," Brooks began, "Again, that is the workethic people don't get to see. You can't imagine what players have to do to get back into playing shape, and then playing at a high level again. That's all work; no one gives you that. Look at Chiefs safety Eric Berry, and you see how far he has come. Not only is he healthy and playing, he is debatably the best safety in the NFL."
Brooks was able to rebound in '76 by garnering a career high 14 ½ sacks to go with a team leading 74 tackles. He actually managed to tie HOF defensive end Jack Youngblood's sack numbers that year, and was voted to the Pro-Bowl for the first time in his career.
The Rams defensive tackle was beginning to be widely considered as dominant as they get. "I played against a lot of really good offensive lineman. We were always evenly matched up; there wasn't anyone I couldn't beat but at the same time I had a lot of respect for the players I played against. Guys like Gene Upshaw, Larry Little, and John Hannah immediately come to mind. They were all great and are Hall-Of-Famers."
Then, in 1977 Brooks continued his level of play and racked up six sacks, 71 tackles, was voted to the Pro Bowl again and was actually named 1st Team All-Pro. The next season his pass rushing numbers returned to lead the team with eight sacks and 80 tackles. Unfortunately he received another knee injury and missed the last two games of the season, and the NFC championship game. This didn't stop the voters from favoring him and he was voted to the Pro Bowl anyways although he wasn't healthy enough to play in the game. He decided that it wouldn't stop him from going all out when he returned next season.
"I think that with anything in that business, no one realizes how hard it is to get ready to play the game of football. Sunday is the fun part of the week; the work ethic is huge. Guys who were successful knew how to motivate themselves to go play. If the only time you ever grinded and worked hard was with a coach watching, then you never became the best you could be. You have to do what is needed to be the best at what you do," Brooks said.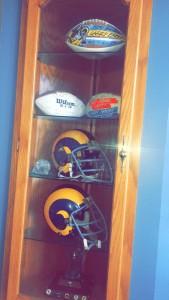 The following season, 1979, Larry Brooks made 99 tackles as a defensive lineman, nine tackles for a loss, six sacks, and four batted passes. He didn't just return to his dominate state, he was even better than before. The Rams defense led the league in sacks that year and carried the team into the playoffs. Brooks was voted 1st Team All-Pro and to the '79 Pro Bowl, but that wasn't enough for him. The Rams battled their way to the Super Bowl that year, for the first time in franchise history.
"I have to say that my favorite moment in all my years of playing was playing in the Super Bowl. We didn't win, but it was the highlight of my career. The hype of the game is great; everybody is going all out every play and it puts a lot of pressure on you. It's the only game that airs that day and you know just about everyone is watching it. It's just an exciting game and something each team and player looks forward to."
Brooks continued his level of play for the 1980 season, where he had 54 tackles and 8 ½ sacks, was named 2nd Team All-NFC, and invited to the Pro-Bowl again. But after another serious knee injury in 1981, Brooks struggled to get back onto the field and retired after 1982.
"I don't have any regrets from playing. If I could do it all over, I would. Nowadays with a lot of past players coming out and saying that they wish they never had played, I don't understand that or believe it. Injuries are part of the game and if you love football, it's hard not to say you wouldn't do it all again. All of the experience, connections, milestones, and fun that I had and made, I wouldn't want to lose. I think a lot of the talk is for the media."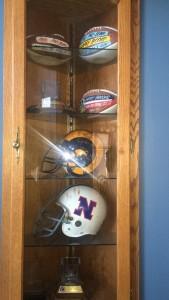 In 1994 he was offered a coaching job with the Green Bay Packers as the defensive line coach there.
"I loved coaching the Green Bay Team. I was fortunate enough to catch Reggie White, Santana Dotson, Gilbert Brown, and Sean Jones. Those guys were all great players and it was a great experience. It was just great to have all of those guys with us."
The 1996 Packers won a Super Bowl and Brooks continued to expand his reputation as a great player and great coach. By 2008 he had coached with the Rams, Packers, Seahawks, Bears, Lions, Cardinals, and at his Alma Mater Virginia State University. He had a long career in the NFL and gathered a lot of experience coaching, but there was no doubt which he enjoyed more.
"I enjoyed playing more than coaching, and thats an easy decision. Getting up for games and playing is just a different level of experience and excitement. Coaching is great because of the teaching factor. You love teaching others to compete and do better but most enjoy actually playing more."
Footage of Larry Brooks matching up against Hall of Fame Offensive Lineman John Hannah.