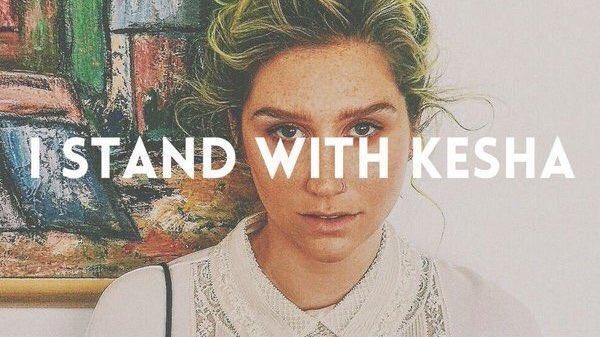 For the last few years, fans of singer/songwriter Ke$ha, who was behind many singles such as Tik Tok (2010) and Blow (2011), have wondered what happened to her. Ke$ha hit the headlines in 2014 when she allegedly accused music producer, Dr. Luke (whose real name is Lukas Gottwald), for sexually and verbally abusing her for nearly decade. Ke$ha, again, made headlines last week when she was denied to be released from her contract.
Stars such as Taylor Swift, Demi Lovato, Ariana Grande, and Justin Bieber have vocally supported Ke$ha, Swift giving the singer $250,000 for help.
Many of Ke$ha's supporters were stood outside of the courthouse where the denial to be released from the contract took place, however some of Ke$ha's supporters have supported her from home.
"I support Ke$ha with what is going on in her life right now because I don't think you should be held captive in a situation that you're trying to get out of that threatens your well-bieng and mental health," senior, Dejanae Gibson, said.
Dr. Luke was accused of forcing Ke$ha to drink alcohol and drugs in order to carry out his sexual assault. He has denied these allegations day in and day out on social media sites such as Twitter and Instagram. He turned the tables when he turned around and sued Ke$ha, her manager, and her mother for defamation.
"Sexual harassment, period, is a critical situation that should be dealt with seriously regardless of fame or fortune," Gibson said.
A video was also obtained in early 2014 of Ke$ha denying any sort of sexual or verbal abuse, which causes confusion to outsiders looking in.
"Either way, whether it is true or not, the situation should be dealt with seriously," Gibson said.
Ke$ha put up a video of herself singing the song 'Amazing Grace' in late January amid her court case, which was pushed back to February 19th.
"Looking at the video, I thought it was very moving and touching." Gibson said.
Though Ke$ha was denied to get out of her contract with Sony, she is able to continue making music with a different music producer who is not Dr. Luke. Music producer, Jack Antonoff, who has worked with celebrities ranging from Troye Sivan to Sia, offered to produce her music coming forward and fans are eager to see what comes next for Ke$ha in this chapter of her life.