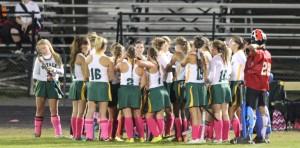 Prince George varsity field hockey took on the Colonial Heights Colonials on Monday evening, October 20, 2014, and won by mercy rule with a final score of 6-0.
The Royals were led by numerous players with goals by freshman Amelia Johnson, sophomore Abby Harrell, juniors Amanda Belcher and Ashlyn Hagee, and seniors Mallory Grissom and Serena Triscari. The Royals's offense had control of the possession battle for most of the game and forced the Colonials' defense to make errors resulting in Prince George goals.
The underclassmen for the Royals added in six assists by freshmen Amelia Johnson and Carlee Lively, sophomores Cassidy Wilkinson, Abby Harrell, and Kendall Eaton, and junior Ashlyn Hagee.
The Royals, whose offense has been the key factor for much of the season's success, also owes credit to a strong defense led by goalkeeper Jade Tyler and defensive players like Haley Orr, Taylor Stevenson, Amanda Grebas, and Brittney Grebas.
The Royals are now 14-1 on the season and look to finish strong as they start the conference tournament on October 29 at River City.