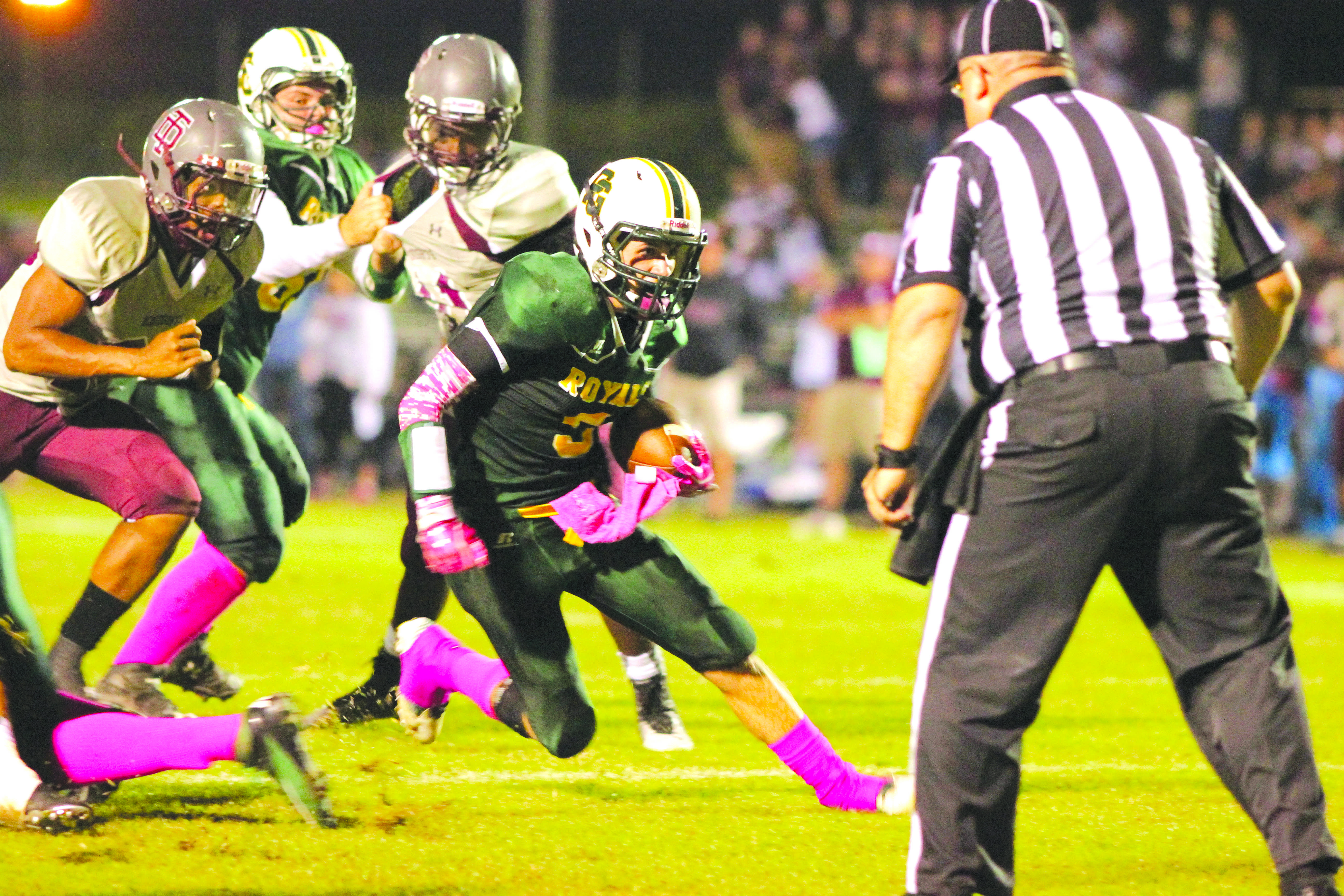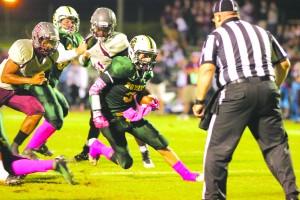 The Royals are proud supporters of green and gold, but for some athletes and students, pink is a color supported just as strongly in the month of October.
October is National Breast Cancer Awareness month and, according to www.breastcancer.org, the average risk of getting breast cancer in women is 1 in 8 or 12%.  With these statistics, the likelihood of someone being affected by breast cancer, either by having breast cancer or having a loved one that has breast cancer, is high.
Senior Jordan Nase is a proud supporter of breast cancer awareness and is often seen covered in pink during the varsity football games.
"I wear a pink undershirt, pink socks, pink cleats, pink cleat covers, and pink gloves in honor of Breast Cancer Awareness Month," Nase said.
Nase understands just how much damage breast cancer can cause a person and a family through his own experiences with his mother and aunt.
"My mom was diagnosed with breast cancer in 2005 and my aunt was also diagnosed and she passed away, so it means a lot to me," Nase said.
To help raise awareness for breast cancer, students and faculty were encouraged  to wear pink on October 3rd, 2014 at the home varsity football game.  This support helps survivors and those affected by breast cancer gain hope that they will be able to fight or be able to support others.
"I know it would mean a great deal to me to see people in pink," Nase said.
Although people think of the football's "Pink-out" when it comes to Breast Cancer Awareness month but other fall sports participate, including volleyball. Varsity volleyball player Eddie Saunders refers to his experiences with breast cancer." My mother had [breast cancer] and when she did, it really opened my eyes on how it can affect different people," Saunders said.
As someone who has been impacted by breast cancer, Saunders has become more alert to the danger breast cancer imposes.
"Anyone can be infected from women to men, so it is really something to keep in mind," Saunders said.
As a supporter of breast cancer awareness and an athlete for Prince George, Saunders believes there are ways the county can increase their participation in Breast Cancer Awareness month.
"We should have more 'Pink-out' days through the month of October and raise money for foundations," Saunders said.
To help raise money for breast cancer foundations, the Prince George Athletic Department has implemented a Play Pink initiative in which athletes will donate five dollars to wear pink throughout the month of October.
"Coach Carroll and I came together on this and Coach Carroll got together with his guys and told them the idea behind wearing pink, because some players just see people in the NFL wearing pink and do the same but it has a deeper meaning," Assistant Athletic Director Hezekiah Butler said.  "The 'Play Pink' initiative is to get the players to donate five dollars to the Susan G. Koman foundation and they will be able to wear pink in the month of October.  This started with football but we are including any sport that wants to join."
This new plan may seem a little contradictory by making people pay to support breast cancer [but it is not in any way and athletes are willing to donate].
"I think it's awesome, the fact that they are actually going to send it to a foundation is amazing," Nase said.  "I do not mind paying."