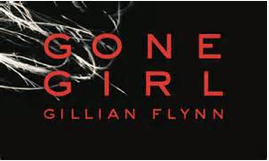 Gone Girl, by Gillian Flynn, was a smash hit when it first came out in June 2012. It spent two months on the New York Times Bestseller List at the #1 spot, an impressive statistic.  It is easily one of the best suspense novels I have ever read.
Gone Girl is narrated in the alternating points of view of Nick Dunne and his wife Amy. Nick's story is set in the present, describing events as they happen; Amy's are told in journal entries, beginning the day Nick and she met and chronicling their relationship. There are key differences in the narrations, but both are based on one fact: The Dunne marriage is not happy. Amy writes of Nick being possessive, controlling, and violent. Nick writes of Amy's passive aggressive put-downs and constant sullenness.
The catalyst occurs when Amy disappears on the couple's fifth wedding anniversary. Every clue seems to point to Nick, who insists he is innocent and would never hurt his wife; she is just calculating enough to implicate him, he claims.
Nick is no hapless victim. Amy is a few steps ahead, he believes, but he knows her psyche enough to start manipulating her back. Yet there is no sign Amy has fled or faked her death, no sign of any outside force. There's enough of Amy's blood found to be certain she has died. Is Nick a delusional psychopath, guilty of murdering his terrified, downtrodden wife? Or is Amy a  brilliant criminal, coldly framing her husband for her death and watching his downfall from a distance?
Gone Girl constantly challenges the reader's suspicions.  In the second half of the novel, the narrative shifts again, and even Nick and Amy's initial representations of themselves prove unreliable- they are both hiding secrets.   The novel is full of constant twists and impeccable suspense, and Lev Grossman's interpretation of it as "a house of mirrors" is absolutely correct. Until the very end, the reader is not quite sure what is truth. Gone Girl will completely challenge your perception of the human psyche and human relationships.