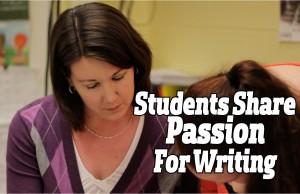 Young Author's Club is relatively small, only ten members in a high school of over a thousand. The small group has previously only focused on individual work, but are preparing for their first writing competition, and have recently had a visit from a published author.
The club meets every other Wednesday to write from a prompt and share their work with the other members and their sponsor, Melissa Face. This is Face's fourth year as the Young Author's club sponsor. Face has a journalistic background at the Myrtle Beach Herald. Face writes creatively as well, something she is "extremely passionate" about.
"What better club for me?" Face said. "Our people are self-motivated. They have so many independent projects. I don't have to sell the idea writing is fun."
Young Author's Club and Face's fifth block recently had a visit from 2002 PGHS graduate Ashley Elder, who is now a published author. Elder was born and raised in Prince George and still lives and works in the area. Elder has always written "little poems and songs" and won her first fiction contest when she was in the fifth grade.
Elder started her book Cursed in 2010 and finished the manuscript the following year. She spent six months editing before it was published in May of 2012. Cursed is the first in Elder's planned paranormal romance trilogy.
"I got addicted to the paranormal romance genre after I read Twilight," Elder said. "I love that when you read you get swept away and live in that world for a little bit."
Elder finished the manuscript  for the next book, Struggle, in November.   The last book will be called Unbreakable.  Elder hasn't decided what is next for her professionally after the trilogy ends.
When she was originally trying to get published, Elder was rejected several times- and that was after she conquered her writer's block. "Some days I'd sit down and I'd struggle to get out a page, and some days I'd write 20 to 30 pages. Sometimes I'd have to take a week to refocus my thoughts and get new perspective. It turns into your baby, and you mold it and make it into what you wanted to be."
During her visit, Elder told her story to the students and answered their questions.
"You need to set goals and set milestones, and you'll never know what you'll achieve until you try," Elder said. "If you had told me three and half years ago I'd be published, I'd have laughed at you."
Elder's age made her relatable to the students, according to Face.
"My students were excited and impressed to meet an author, like, 'Wow, you really did this, and you're not some old lady with gray hair!'" Face said.
Young Author's club is preparing for their first competition this year, a VHSL-sponsored competition where each school that enters submits a folder of two essays, two short stories, and two poems.
"Our groups' strengths are their creativity and definitely their ability to write  so many different styles," Face said. "We have really strong creative writers this year, and we have a good chance at submitting a quality folder and receiving recognition."
In the future, Face and the club look forward to other contests, opportunities to get published, more author visits, and giving back to the community.