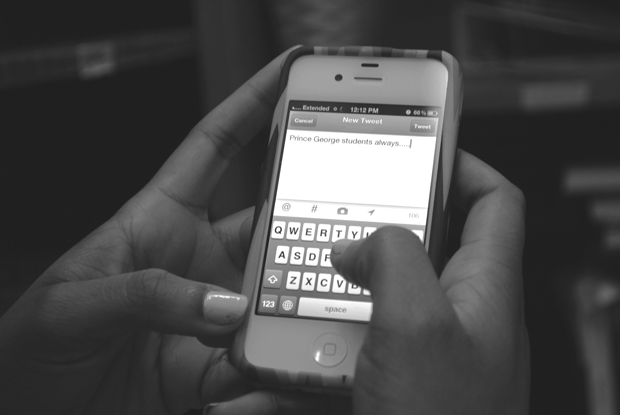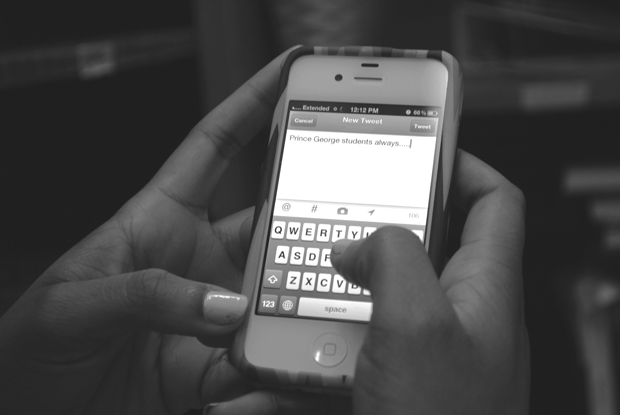 With the growing popularity in social networking site Twitter, cyber bullying has increased as well. School administrations have started to have new policies so disciplinary actions may be taken for cyber bulling. Photo by Jessica Marshall
By Aaron Raines
According to businessinsiders.com Twitter was originally designed as a window into the lives of celebrities.  However, in the past few years it has evolved into a social networking site for people all over the world. More viral than Twitter's trending topics are the instigations it creates, especially in schools.
Cyberbullying has lead teens to harm themselves. Rutgers University student, Tyler Clementi took his own life in 2010. A young man named Jamey Rodemeyer committed suicide in 2011 at age 14. Cyber bullying is a growing problem and school administrators such as Assistant Principal Chris Romig are concerned about the effects it has on students.
Cyberbullying is nothing new, however as technology grows so does the effect cyberbullying has on young victims. Cyberbullying is using computers or any other personal wireless device to bully, harass or intimidate. While technology can be helpful, more and more students are using it to victimize their peers.
According to Assistant Principal Chris Romig, students have been suspended and even charged for cyberbullying. In the past month three seniors were suspended for cyberbullying.  What began as a joke quickly turned into something hurtful. The game began in a theater class where the three seniors decided who was "most likely" to be or do something. Their game continued onto Twitter where students from their school as well as schools nationwide could read the inappropriate, by school handbook standards, and even sexually orientated statements they posted about their classmates.
"If you would not say it to them or in front of your parents then do not say it online," Romig said.
Most students post things online without thinking of who they might hurt. However because of new laws and procedures more students are aware of the effects cyberbullying may have on their victim as well as the consequences they will face.
An incident that occurs online can easily be reported. A student who has been bullied online can report the incident through text-a-tip, Crime Solvers, or simply by telling an administrator. Punishment for cyberbullying depends on the severity of the situation and can range anywhere from a warning to expulsion. Many students feel that an incident that occurs off of school property should not be handled by the administrative staff.
"It is none of the school's business what we do at home on our computers," Evans  said.
According to the Virginia Department of Education cyber bullying affects 14.2 percent of students. As a response to this Virginia lawmakers are cracking down on the problem. Under legislation, which was unanimously passed in both houses of the Virginia Assembly in June 2011, it is now a Class 1 misdemeanor to use a cellular telephone or other wireless device to transmit a message that contains profane, threatening, or indecent language. Making a written threat, including those via texting, e-mail, instant messaging and the Internet, is a Class 6 felony.
"If an incident that occurs online affects a student in school, it becomes a school problem," Romig said.
While laws are in place to address the problem of cyberbullying they are still being challenged. In July of 2011, the Fourth U.S Circuit Court of Appeals in Richmond, Va upheld the suspension of a student for creating a web site that contained derogatory rumors about her classmates.
This incident took place in West Virginia, however since the same federal appeals court has jurisdiction over Virginia; their decision applies to Virginia students and schools as well. The accused student's attorney argued that the school did not have the authority to punish her because she did not create the web page while on school grounds. However, the court decided that her web site did indeed interrupt the learning environment of the school and ruled in favor of the school district.
Being suspended or even facing a felony are not the only consequences students who bully online should worry about. Colleges as well as jobs check the Facebook and Twitter accounts of applicants. Instructional Technology Resource Teacher, Stephanie Poe, urges students to be careful about what they post on the web.
"Students should be more careful, colleges are watching and jobs are too," Poe said.
When used properly technology can be a very useful tool for education. However, when young people abuse the Internet it can have long lasting effects on their education as well as their futures.
"Technology is moving fast, I think kids just want to keep up, but I wish they would slow down," Romig said.
Cyberbullying is a growing problem that challenges school and state regulations. Not only must schools be consistent with punishment but they should also inform students of the lasting consequences one seemingly harmless tweet can have on the rest of their lives.