By Adam Blakemore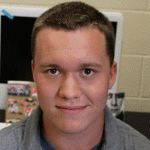 Students all get the same speech at the start of the year about why they are not allowed to use a cellphone at school. This speech has some valid points, and as technology advances, the speech just gets longer.
It used to be that cell phones could only call people, which started the problem of phones ringing and interrupting class. As phones have been constantly upgraded, they are gaining more hold in the lives of  youth. On top of that, now that we can text as well, there is a whole new world of cheating out there, with answers being only one short text away.
With the addition of smart phones, the internet is now readily accessible from anywhere, making phones into something more like small computers. A student can all too easily look up the answer to any problem from the security of their pocket or purse, and no one is the wiser. This has caused teachers to crack down harder on phone usage, which of course, leads to further outcries from students.
There is also the capability to view videos and play games anywhere, which is not only a distraction for the user of the phone, but also leads to others being distracted by watching it. Although this might be acceptable in some situations, there is a time and place for everything, and schools are a place for the fostering of knowledge, not for useless diversions.
Cell phone use has also changed the way teenagers write and talk, with people using  texter's lingo. Instead of writing out words like "you" and "are", they are using "U" and "R". When kids are trying to say something that is really funny, they should not say "Lol", they should just laugh, I thought that was common sense.
You would think teens would be able to separate the "Cyber" world from the real one, but a lot of the time it seems like they cannot make the separation in their minds. They are not able to distance themselves from their phones, and this can lead to people knowing where you are at all times, which is completely unnecessary.
People used to be able to go ten minutes without letting the world know exactly how they felt, but with the fact that everyone can now tweet off their phones that seems to have changed. The rational people try to avoid this addiction, but eventually they will get sucked into it.
Although there is certainly some good points to be said about the usage of cell phones in a school environment, it is only a good idea if the students can handle it, and I believe that high schoolers just are not responsible enough to handle it.