Pro/Con: The following is a two part opinion piece presented by TRN writer Nathan Britt and Courtney Taylor. The two debate who should gain your vote on Tues., Nov. 6th.
Commonwealth's Attorney Race – Vote Jay "C" Paul
By Nathan Britt 
In the race to be our county's chief prosecutor, two foes stand toe to toe. Jay "C" Paul, the incumbent prosecuting vigilante faces off against the conservative barrister challenger, Tracy Taliaferro. I believe in our court system, experience is key.
The Commonwealth's Attorney is in charge of prosecuting court cases in Prince George's jurisdiction. In recent years as chief prosecutor, Paul has expanded the office to include two assistant prosecutors for the purpose of prosecuting more cases. He has helped turn an understaffed, inefficient department into a well run prosecuting machine.
And with the new hirings, their caseload has indeed significantly increased. They now handle all cases personally except traffic incidents.
Under Paul, the rate of dismissed felony cases has dropped to 14%. According to the Commonwealth's Attorney Office, he successfully oversaw the conviction of Douglas Daugherty who was sentenced to 64 years for killing two Hopewell men. Being a harsh prosecutor serves as a deterrent for criminals and takes them off the streets.
While Taliaferro is running as a Republican, Paul is running as an independent. I believe this is important because the commonwealth's attorney represents all people of Prince George, not just Republicans. Paul's lack of partisanship is invaluable in the courtroom.
Paul is also very involved in our community. His wife is a teacher in our school system and their two kids attend here as well. He is often seen at many different community events, such as the football games where he is always cheering the team on.
The combination of community involvement and an impressive record in the courtroom make a strong case for Paul as it is. Mr. Taliaferro may counter that he has many similar qualities. However, he does not have the experience of being a prosecutor in Prince George County like Paul does. Let Jay "C" Paul continue putting away criminals. It makes our county safer.
Commonwealth's Attorney Race – Vote Tracy Taliaferro
By Courtney Taylor
As Election Day approaches, the fight for commonwealth attorney has become evident throughout the county. On Nov. 8th, Tracy Taliaferro will be going head to head against Jay "C" Paul. This will be the second time in a row as Taliaferro runs against Paul.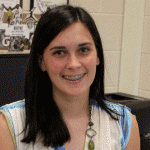 In the last election, Taliaferro lost, but was probably the result of a low voter turnout. After originally not planning on running again, Taliaferro has decided otherwise. Based on reports by the Progress-Index, after Paul dismissed a major case during his last term, Taliaferro decided he now has a better chance of winning. I think this is true as well. People now have more of a reason to go and vote, I think this gives Taliaferro a strong chance of winning this second time against Paul.
Taliaferro has lived in Prince George since 1970, and has been an active member of the community. He graduated from PGHS and then became a member of the emergency crew. I believe this is an important attribute, since he has a better view of the county as a whole. With this knowledge, I believe Taliaferro is a very valuable candidate for Commonwealth Attorney.
Taliaferro is ready to provide real prosecution against people committing crimes. Although Paul has very few dismissed cases, he has many cases that he has not prosecuted. This is not impressive in my eyes. I believe that with the county's only capitol murder case, the James Pettaway case, more action should have been taken. Instead Paul never allowed the case to make it before a jury.
Taliaferro loves Prince George, and has said it is a great place to raise a family. I think that because he raises his family here, and loves the county, he is going to make the best possible decisions in each case. He is running as a Republican candidate, and has conservative views. He also has a law firm that runs in Colonial Heights but serves here as well. This has provided Taliaferro with valuable experience.
Between experience and a love for this county, Taliaferro would make a great Commonwealth's Attorney. Although Paul has experience in this position, he has let the county down in the way he has handled cases. Taliaferro is prepared to do whatever it takes to make this a safe place to live.