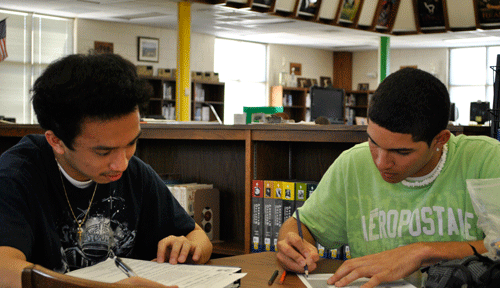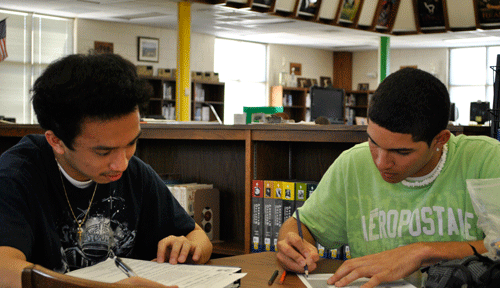 By Mariah Blystone
The Spanish language is becoming increasingly relevant in America. Certain businesses and companies cater to both English speakers and Spanish speakers.
The United States Census Bureau reports that about eleven percent of the United States population is Hispanic, and the number is quickly increasing. The Hispanic people have various characteristics to their growing culture.
Some students come into school knowing little or no English.
"I started learning English when I came here in the eight grade," junior Girsan Negron-Quiros said.
Students have obvious difficulties learning the language
"The hardest thing for me is when people talk fast and pronunciation," Negron-Quiros said.
Some students have ways to help them adapt to a whole new language.
"Watching TV and movies helped me understand," Negron-Quiros said.
Negron-Quiros has advice for future students like himself.
"Don't be shy," Negron-Quiros said.
Negron-Quiros had to see teacher Angela Mitchell to learn the language. She helps students with their speech.
"Teachers refer students to me when they notice speech problems. I then screen them to determine their English proficiency," Mitchell said.
Students can take advantage of Mitchell's help at various times of the day.
"I meet with them during their ETEH periods and at the request of the teacher as well," Mitchell said.
Various activities are used to help the students with the English language.
"I do lessons with them to help with oral speaking, writing, reading, comprehension, and listening skills," Mitchell said. "I also can read the test out loud and read them pieces from their English classes."
Having many students at different schools can cause difficulties.
"The hardest part for me is coordinating between so many teachers both here and at Clements," Mitchell said.
Although Mitchell is exposed to Spanish speaking students, she does not understand the language well.
"I do not speak to [the students] in Spanish. By doing that I am not helping them, so I make sure to only use English," Mitchell said.
Teachers now and in the future may be faced with a language barrier between students.
"A good thing to do is to write things down so they can see the words as well as hear you say them," Mitchell said.
When students get involved in the school, they can grasp the language better.
"It is good for them to have English speaking friends so they can pick up the language and the culture because when they come here it is much of a culture shock for them," Mitchell said.
Working with other students will help, but they may still have problems with certain parts of the language.
"Conversational language can be learned easily, but academic language can take from two to five years to learn. Certain simple words, like over and under, that we take for granted they don't understand," Mitchell said.
The students are more than willing to work hard to learn the language.
"Some of the students have to pay to go to school in their countries so when they come here they do not understand why some of the students do not take it so seriously. In the United States we take education for granted. They come here with great work ethic," Mitchell said.
When it comes to education teachers will do what they need to do to help their students.
"I always say that good teaching is good teaching. The teacher will always do what they have to do," Mitchell said.