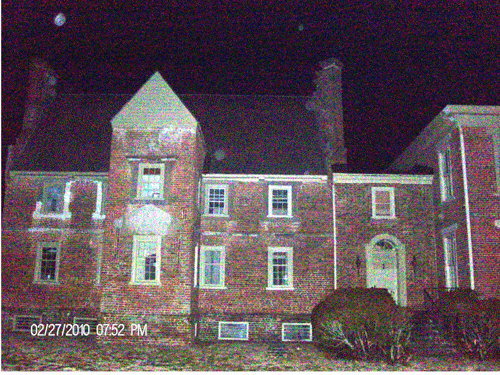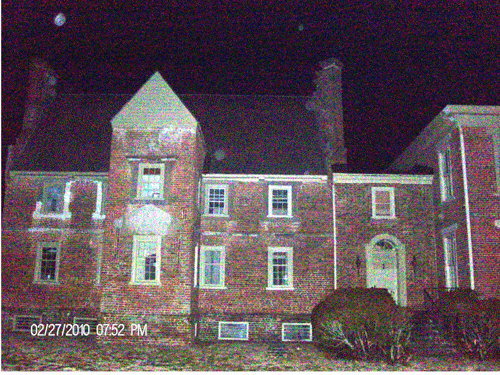 By Alison Brown
Senior Scott Banks began an investigation at Bacon's Castle unaware that he would be experiencing something unusual. As he left, he let the flash of the camera light up the space around him. After he snapped a few pictures, he realized that he had caught something amazing. He had caught photographic proof of a face appearing in the window.
"It has always been an interest of mine," Banks said. "Ever since I was little I would read books and watch the shows on TV so I thought it would be really fun to go out and do it myself."
Banks has been investigating the paranormal for about a year now. He is not only interested in searching for ghosts and spirits, but also gaining knowledge prior to the investigation.
"I just think it is really cool to go in there and figure out who is this person and who is here so that way it is not like a woman who wears a white dress. This person has a name and a face; it is not just some random thing that is there."
Banks chose the paranormal investigations to be his independent study. In his independent study, he looked at all aspects of the paranormal.
"It revolved around the history of certain spots, like I would not just pick some random place that someone said was haunted," Banks said. "Like Bacon's Castle in Surry, or Weston Manor in Hopewell and the Poe Museum in Richmond, other places like that actually have history connected to it."
Banks really enjoys most everything about his paranormal investigations, but there are a few things that peeve him.
"There is this one thing where people want to take pictures, a lot of the time people find little orb balls of light and they think that it is a ghost or a spirit, but most of it is dust," Banks said. "It is very easy to go into some old basement and then there are five orbs in your photo."
Besides Banks' first personal experience, he has been around for other group encounters. His father witnessed one of the other occurrences.
"He [my father] said he could feel his arm being touched by something. It was like something was brushing up against his arm and he would just wipe it off. Eventually it would just move to the other arm and then something started touching his ear."
Banks does not normally work alone and occassionally works with another organization.
"Last year I worked with the head of The Spirited History, LeeAnne Ball. The French teacher, Ms. Skiffington, would come along on some of the trips. So I have worked with them and a few others that go on investigations with us," Banks said.
French teacher Marcia Skiffington has been working investigations off and on for about five years. She worked with Banks at the Poe Museum last March and had an experience of her own. Skiffington and one of her fellow investigators went into the Carriage House Building behind the Poe Museum.
"The lights were on, nobody was in there, but we heard something stomping around upstairs and we were like 'Hello who's there?' And it got quiet," Skiffington said. "So then we used the rest room and came back out. We were like 'Okay whatever you were doing you can go back to doing!' And then it was 'STOMP STOMP STOMP' down the staircase in front of us. I looked at her and she looked at me and we both went 'AH!' And ran out."
Banks is very passionate and excited for investigations to come. He plans on keeping his investigations a consistent hobby and witnessing the most coveted.
"There is always like the Holy Grail. It is like here it is; you can't really say that it is nothing. It is boom, there it is."