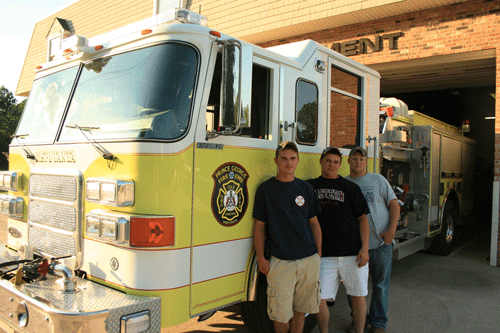 By Jessica Lee
Whether it is rushing to the scene of an accident to save a man's life, a garage fire in order to protect more people, or even going to the scene of an accident where one of the victims is a friend, these students are doing what they love. Firefighting.
Seniors Austin Adams, Waverly Clements, and Cain Allin are all going to East Kentucky University in the fall to take what they are volunteering their time for, firefighting, and make it into a profession.
"I am going to EKU because there is not a four year school in Virginia for what I want to go to college for," Clements said.
EKU's Fire and Safety Engineering Technology Program is regionally accredited by the Southern Association of Colleges and Schools and is designed for students to eventually obtain leadership roles and create advancement opportunities.
"I am doing this in order to make myself get a better education about the thing I like to do in life. I plan on being a firefighter for the rest of my career," Clements said.
Tuition rates for this program are at $350 per credit hour. This gets very expensive seeing as the number of credit hours needed to graduate from the Fire and Safety Engineering Technology Program is at 128 hours with 34 general requirements, 8 hours free electives, and 86 program requirements.
"I've been trying to set financial aid, get loans, and talking to Mr. Havard about," Adams said.
The three prospective firefighters have already started volunteering for preparation of the future they have chosen. Clements has been with the Disputanta Company 2, Adams with the Burrowsville Company 4, and Allin with the Carson Company 3.
The program at EKU is concentrated in Fire Protection Engineering Technology to give the students the technical knowledge and skills needed to excel in the field of firefighting.
In the Fire Protection Engineering Technology program, the graduates get the experience to work with architects, engineers, and officials in order to investigate fire damage and find out why the protective measures failed. The graduate process also allows for the students to help decide what kind of new measures could be developed for the future.
The class curriculum for firefighting is about teaching the basics for the students to learn before going out and doing this for a living. It includes fire dynamics, building construction, fire protection structures and most importantly safety.
"Being a firefighter is a dangerous job; while everyone is running out of a burning building we are going in," Clements said.
The Fire and Safety Engineering Technology program is designed to provide students with a background in dealing with fire safety, as well as industrial and community disasters.
The focus of the Fire and Safety Engineering Technology program is to give knowledge about fire and emergency management, hazardous materials, and safety analysis, just a few of many more subject matters that these students will face.
"I've been through the firefighter one and two courses, awareness course, Hazmat operations, and I've learned a lot through my couple of years through Carson," Allin said.
The Blackboard online learning site for the university is a way for students to check grades, look at the course syllabus, talk to the professors of the courses, take exams, and other things to help out the students.
"It would be very beneficial because any way you can communicate with your professor out of class is beneficial," Allin said.
For those who are like these students and want to pursue a career in firefighting, Allin believes it is very important for future firefighters to remember this very important rule.
"Always remember the two in, two out rule. Never leave a fellow firefighter behind," Allin said.