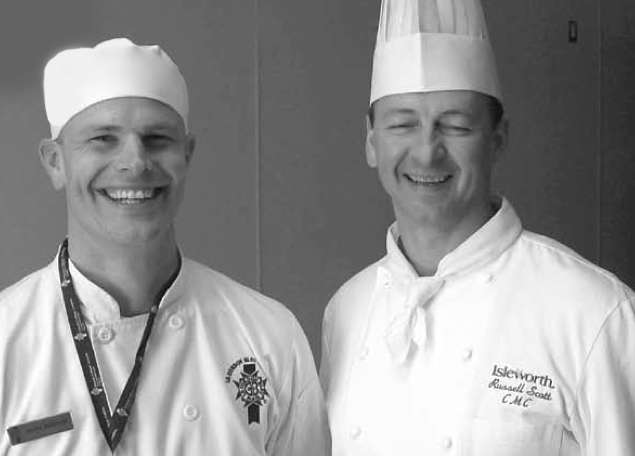 Colonial Heights program prepares students for career in restaurant
By: Jessica Marshall
Channel 12 is home to many favorite shows: The Office, Jay Leno, Dr. Phil, and Today. But every day, at 2 p.m., Rachael Ray takes the stage. With her hit show, 30 Minute Meals, she has quickly become a cooking sensation. A handful of people, even some students, share at least one thing in common with her. An interest in culinary careers.
As senior year approaches and students start applying to college, fields that students want to major in are few and far between. Medical, law, and business all come to mind. For those who like to eat and cook, a culinary career comes to mind.
For those interested in a medical career, a nursing program is offered at Rowanty. Business and marketing is offered to individuals who want to go into the business field. However, the inspiring culinary artists are left to develop their skills elsewhere.
This problem does not exist at the Colonial Heights Technical Center. Bryan Wareham is the teacher of the Culinary Arts Class at the Center.
"If you asked me if I wanted to become a teacher seven years ago I would have laughed in your face. I took this job as a change of pace from working in the industry," Wareham said. "Prior to teaching I gave up almost every holiday and weekend in order to make the most money. I knew that I would be taking a pay cut but 'quality of life' outweighed everything else."
Students can enroll in ProStart I their sophomore year. In order to take ProStart II, ProStart I has to be completed successfully. For ProStart Experience, 400 hours of cooking and teaching must be obtained as well as completing both of the other courses.
In ProStart I, participants meet daily for one period where they are taught basic culinary skills. These skills include sanitation, and public speaking. The class also includes basic measuring, accounting, recipe conversions, and identifications of different kitchen tools and equipment.
In ProStart II, applicants meet daily for two periods. During these periods, knowledge from the previous year is reinforced as well as the history of critical chefs and food service. Students are also prepared to participate in the "Creative Café", which serves as a real world restaurant.
The "Creative Café" is a restaurant that is run by the members of Wareham's classes. It runs on Wednesdays and Thursdays, from 11:10 a.m. until 12:00 p.m. It is open to the public so that one can experience food prepared by the culinary classes.
In ProStart Experience, the main objective is to offer members experience from the real culinary world, and to obtain their ProStart Certificate.
"These classes open students' eyes to what the food service industry is really about. Many students take the class just to make cookies. When they get in here they quickly realize that it's much more," Wareham said. "Students have to 'dress out' in chef whites. They practice French classical knife cuts, lots of measurement conversions, etc. I hope that I affect them positivity, but some would say otherwise because of their grade in my class."
Those who are fond of the culinary art develop this feeling at a younger age. Memories of the first time one cooks or handles food stand out.
"My first cooking experience that I can remember was not exactly cooking. I was about 6 or 7 and I wrote up a menu for my mom to order from," Wareham said. "The menu included a couple of cold sandwiches, chips, and etc., so basically anything that did not require a heat source. My mom ordered and I made it for her. She loved it."
At home, one can see culinary skills wherever they look. Someone might be cooking in the kitchen or watching a show on The Food Network. These shows prove that an interest in a culinary career is not unheard of. Culinary inspiration is obtained throughout one's life.
"I grew up poor so going out to eat was a treat. Therefore I've always loved restaurants. Also my mother and dad were just average cooks so usually the food usually tasted better," Wareham said. "Let's just say that I am passionate about my career. I try and relay this passion on to my students but most kids just want to make cookies."
Besides having the skills, culinary careers require much more. Hard work and patience are key to being successful.
"Work ethic is everything. Just like everything in life if you work hard enough it will pay off. Kids today expect that they just need to show up for work, breathe, and get paid," Wareham said. "When I managed restaurant's you would have only lasted two shifts. Now with adults having a hard time finding jobs the student job market has almost disappeared, so the only way to stand out is to work hard."
With the need for culinary careers on the rise, many high schools are beginning to incorporate a culinary class into the electives offered. For Royals who want to become culinary artists, a class like the one offered at Colonial Heights would be worth it.
"Yes, Prince George would benefit greatly. Next to doctors, the need for qualified and educated food service personnel will always increase," Wareham said. "The food service industry is so vast with career pathways, for example: hotel, prisons, TV shows, restaurants, advertizing, and so on and so forth."